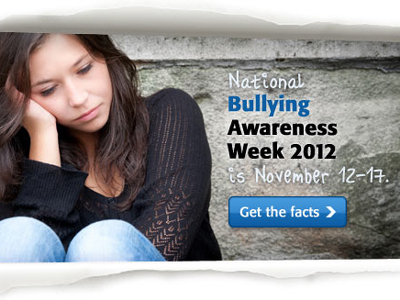 The connection between bullying and our social identity is on my mind. The prevalence and impact of bullying has been front and centre in the media lately and I have dealt with some bullying issues on the home front, as well. In Canada, this week marks
National Bullying Awareness Week
. Although anti-bullying programs and awareness have been part of our collective discussions in schools and communities for many years, recent events in British Columbia have pushed the topic to the surface. In their weekly newspaper column,
Craig and Marc Kielburger
have commented on the importance of training bystanders to be vocal against bullies and to befriend victims. We need to remember the importance of teaching empathy and adults need to model respectful behavior towards each other. As the Kielburger brothers point out, "
Cyberbullying
is more difficult because it happens in a private world closed to most adults,"(Calgary Herald, 11/12/12).
As a parent, I have recently been reminded of the importance of keeping the lines of communication open in order to encourage kids to seek help and to share what is going on in their digital world. Through conversation, concerns, and checking the texting conversations of my son, I realized I needed to take action and appeal to our community of parents. I was able to search the internet and contact a parent directly about concerns I had regarding the social identity of a child. By working together, we were able to deal with an emerging situation quickly. It is essential that we collaborate as parents and teachers to establish the kind of support that children need as they manoeuvre through the business of "hanging out, messing around, and geeking out," (Thomas & Brown, 2011) on the Internet.
After watching
Stuart Brown
discuss the importance of fostering play in all humans in order to enrich our lives, I wonder if increasing our opportunities to engage in joyous times would combat the occurence of bullying? Bullies are typically lonely, hurting, or lacking confidence. Surely, the opportunity to experience play would replace the need to be mean.
As we embrace the new culture of learning (Thomas & Brown, 2011) we are making progress in teaching
digital citizenship
skills. We need to keep working hard to teach kids to be open, kind, and supportive of one another in the relationships they are building on and off-line.
References:
Brown, S (2008). Play is more than fun. Retrieved from: http://www.ted.com/talks/stuart_brown_says_play_is_more_than_fun_it_s_vital.html.
Kielburger, C. & M (2012). Make a pledge to take a stand against bullying. Calgary Herald (11/12/12).
Thomas, D., & Brown, J.S. (2011). A new culture of learning: Cultivating the imagination for a world of constant change, Seattle, WA: Create Space.